Registration Open for 6 Months/Weeks Digital Electronics course Training - Ambala
Wednesday, 9 January 2013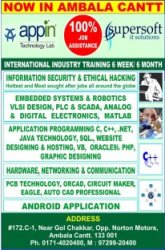 Contacts

NRSGroup

9729920400
Item description
Digital Electronics
Digital Electronics is one of the fundamental courses found in all electrical engineering and most science programs. The great variety of Boolean and numeric controls/indicators, together with the wealth of programming structures and functions, make it an excellent tool to visualize and demonstrate many of the fundamental concepts of digital electronics. The inherent modularity is exploited in the same way that complex digital integrated circuits are built from circuits of less complexity, which in turn are built from fundamental gates.
Unit 1: Laws of Boolean algebra And Logic Gates
Unit 2: Number Systems & Codes
Unit 3: K-Map
Unit 4: Circuits
Unit 5: Flip Flops and Registers
Unit 6: Counters
Unit 7: Memory Devices
Address: Appin Technology Lab Ambala Cantt
172 C-1 2nd Floor, Rai Market, Above Bank of India, Opp. Norton Motors, Ambala Cantt, Haryana
CALL 0171-4020700 OR SMS "9254355226".